Photo by Disney ABC Television Group via Flickr
Very few public figures emulate talent, beauty, humility, intelligence, and kindness all-in-one within the Black community with such grace and elegance. Many exude one or two of these characteristics, but only some hold them all as effortlessly as Zendaya Coleman. As an actress, dancer, writer, and singer she's starred in two hit Television shows, two Television movies, wrote a book, released an album, participated on a nationally popular dance competition show, appeared on the covers of numerous teen pop and high fashion magazines, is launching her own shoe line, has her very own Barbie Doll, and continues to rock every red carpet and fashion event she attends.
And she only just turned 19.
Wow.
Let's start from the beginning of my obsession.
I first discovered Zendaya by watching her hit show "Shake It Up" back in 2009. I remember thinking after watching a couple episodes with my niece that Disney finally had a positive Black character that all young girls could look up to, after "That So Raven" that is. And what a great character she was! She was funny, smart, and could dance her butt off. I was glad Disney was giving this little girl of color a chance to shine.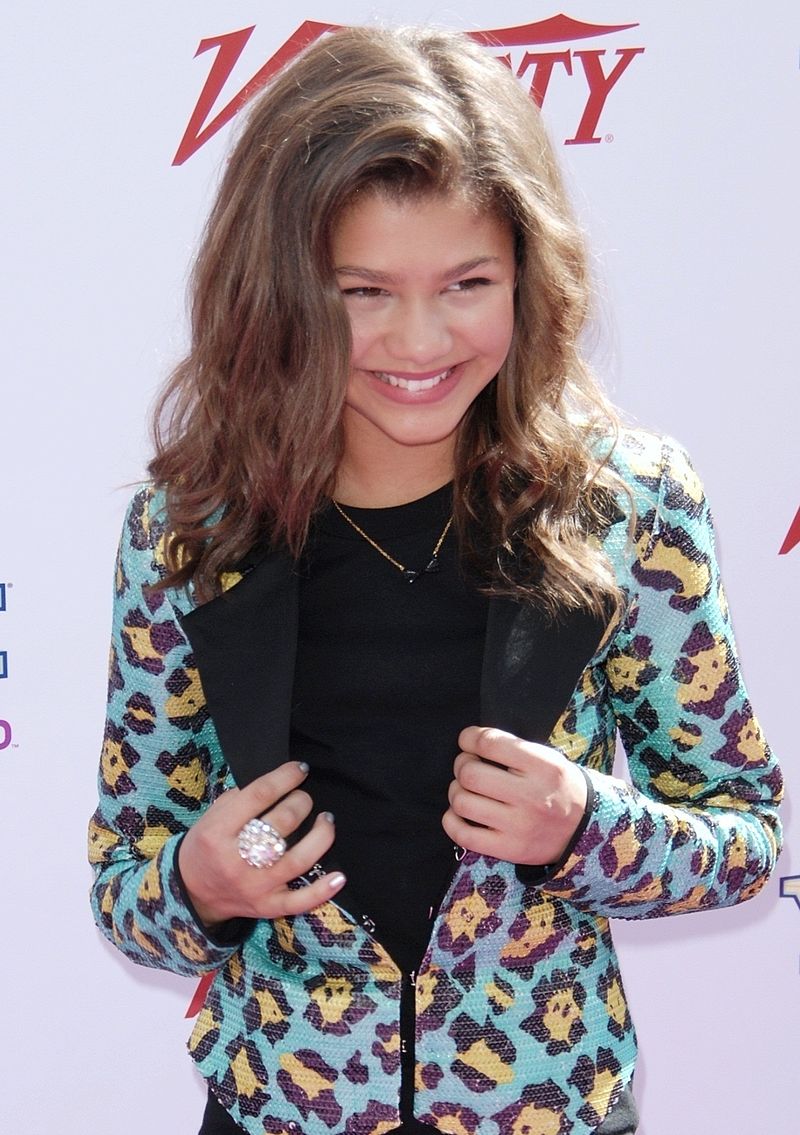 In 2013 Zendaya wowed me again when she appeared as a contestant on the 16th season of ABC's "Dancing with the Stars." Every week she killed it, and she was only 16! Aside from being wowed at her dancing ability, her personality was a breath of fresh air.
After that, I tried to keep up with her. She released a book, "Between U and Me", (that I bought for my niece who loves Zendaya as much as I do), and her debut album, Zendaya, (which I also love), all in the same year as DWTS. All while she was still in high school.
I could barely get my homework done on time in high school.
However, it's only been within the last year that I believe Zendaya has really began to come into her own and start take the reins that come with being a African American celebrity and steer them with positivity and humbleness, making her the ultimate role model.
 She, however, doesn't necessarily say she's a "role" model.
In a recent interview, Zendaya stated "In the words of Tupac Shakur, I don't feel like a role model because I'm not playing a role. I'm not pretending to be someone that I'm not in the hopes that people will like me. I'm a real model. I keep it real, I do what Zendaya does, I do what Zendaya feels right doing. If you pretend to be a role, one day that role is going to break."
I love this.
But no matter what she want calls it, she sure is making an impact.
Zendaya was named one of Times Most Influential Teens of 2015. She was chosen due to a few reasons, one of which made national news.
In name of projecting positivity, young Zendaya proceeded to take the high road when E! Fashion Police correspondent, Guiliana Rancic, judged the Faux Locs she wore earlier this year to the Oscars.
Rancic stated that Zendaya's hair looked as if it smelled of "weed and patchouli oil." This, of course sent the Black Community, myself included, into a social media uproar.
In other words, Black twitter went off.
Zendaya, however, graciously forgave Rancic, which you can read more about here.
The point is, at such a young age, Zendaya understands that fighting fire with fire, or prejudice with vindictiveness, is not the answer to the kind of situations many black people find themselves in. Although Zendaya herself has stated she got angry at the comment, saying "As hard as it was to stop MYSELF from being ignorant and posting the first mean words that came to mind because I was hurt. . ."she followed that "instead I sat for two hours on my phone, doing my research and formulating an educated response." That is how we should all strive to combat racism and discrimination.
Something even greater about Zendaya is her conscious use of her celebrity. And when I say conscious, I mean she is well aware of the type of influence she holds on the youth of today, stating that "When you're put in a position to really affect young people who are going to run the world one day, if you're able to be in their life at a young age and make a positive impact, I think that's a beautiful thing."
Zendaya uses her brand to inspire young girls, or women in general, to be themselves, and to love being yourself, flaws and all. Many celebrities say this, but I believe Zendaya actually means it.
Why?
Because of acts such the one listed below:
Recently Zendaya posed for Modeliste Magazine, where they retouched images of her thighs, making them seem smaller. Zendaya proceeded to post the unedited version on her Instagram to her 14 million followers, and also asked the magazine to post the untouched photos, stating that "Anyone who knows who I am knows I stand for honest and pure self-love."
Within the last year Zendaya has become a young Fashionista, radiating a very distinct form of class and individualism through her fashion statements that all young African American girls admire. And she does so flawlessly without resorting to using the age old marketing tactic: "sex sales." This trait is something that women of all ages can appreciate, especially black young girls of this generation who see celebrities such as Nicki Minaj and Tinashe wearing skimpy clothing, adopting the perception that you have to take your clothes off or be considered "sexy" to be beautiful.
That is simply not true.
And Zendaya personifies this.
She has rocked high fashion events such as the Met Gala  and the Oscars (as previously mentioned), the latter of which was so controversial and influential that it even earned the young "real model" her own very own Barbie Doll , modeled after said look. She also recently took Paris Fashion week by storm, rocking looks from various major designers such as Vivienne Westwood and Giuseppe Zanotti, using subtle and demure makeup techniques that exemplified her natural beauty.
However, Zendaya not only harbors external beauty, but also internal. Most teenagers would of course want a party and a bunch or materialistic gifts for their nineteenth birthday.
Not Zendaya.
For her most recent birthday, Zendaya proclaimed that she wanted to fundraise money "to help @UNAIDS & iKAGENG support a family I met in South Africa" on a trip she made to the motherland in July.  What 19 year old does that?! Not many, that's for sure.
Lastly, Zendaya never forgets her roots. Born to a mother of German Descent and African American father, Zendaya's name actually means "to give thanks" in Shona, the main language in Zimbabwe. The young entertainer has spoken out about appropriation of Black culture and many controversies within the Black community on her social media sights and in interviews.
In a recent interview she stated, commendably, that "I have that pride in knowing that I'm an African American." We have to take proud in who we are, and she epitomizes this concept through her fashion, her philanthropy, and her positive attitude.
She repeatedly uses her voice to help raise awareness to issues with the Black community that aren't brought up enough. In this introspective interview with HungerTV.com, she discussed how many African Americans have trouble tracing their African ancestry. "There's a big disconnect with African-American people, because we're not able to trace our roots as far back," which I think is a very true problem that I feel should be addressed more within the black community.
In my opinion (pun intended) you couldn't ask for a better role model for young African American girls, African America women, and just the human race in general. She is uber talented, ultra-beautiful, super humble, kind, and intelligent.
The flabbergasting most part is that she is just beginning.
While still starring in her hit Disney Channel show, "K.C. Undercover," preparing to release her sophomore album sometime next year, ( which I will definitely be investing in), launching her very own shoe line in 2016 titled Sole of Daya (I will be investing in that also), and continuously setting the fashion world on fire and spreading her positive energy and bright perspective everywhere she goes, Zendaya's one of the best "real" models we could have in the Black community, and I cannot wait to see all she has to offer.
Oh, and she just graduated high school.
What?!