That summer body everyone craves is not a simple feat to achieve, but with discipline, hard work, and dedication it is very doable. Obtaining a body everyone wants does not happen overnight.  If you haven't already, starting an exercise regimen now during winter is a great time to begin. It will give you optimal time for working off whatever excess weight you have gained from all of that holiday food.
However, getting in shape shouldn't be a short-term goal. If you want it to last, you have to put in the work to make it so, and that means making it a lifestyle. Plus, if you keep at it, you won't have to start all over next year!
Here, NOMMO has gathered 5 Easy Tips for helping you get in the best shape you've ever been in, and stay in. These steps will hopefully make getting in shape and continuing to do so easier and much more fun.
  

Make Your Water Taste Good
Drinking water might actually be really hard for some people since it is tasteless, but results don't lie. There is no dispute over the fact that drinking water helps you lose weight. However, while drinking lots of water,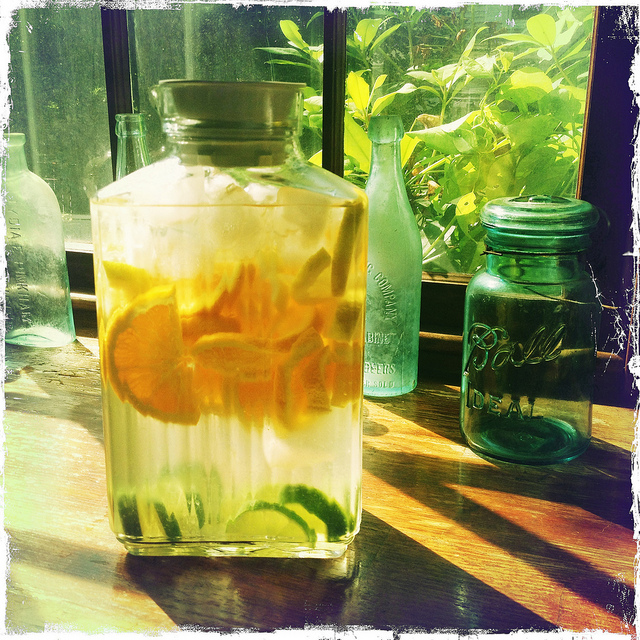 approximately eight glasses a day, is not only an important part of getting in shape, it is a vital resource we need to survive. However, it does not have to be flavorless in order for you to absorb its benefits. Adding fruit, vegetables, and herbs to your water will not only give it flavor that that you don't have to feel guilty about (because they hold natural sugar that is good for you), they also add vitamins and antioxidants that are excellent for the body, depending on what you use. Here are some simple recipes to help you zest up your water.
2.   Get lots of sleep
Sleep, like water, is a necessary part of life, but some people, especially college students, don't get enough of it. And while being tired is not the only detriment of not getting enough sleep, many studies, such as one conducted by "Matthew P. Walker, an author of the study and a professor of psychology and neuroscience at the University of California, Berkeley," have shown that sleep loss is actually correlated with weight gain. So trying to get at least seven to nine hours of sleep a night, as often as possible, even as a busy college student, is ideal if you want that on fleek body by summer.
  

Find a workout buddy
This can not only help to motivate you to actually workout, but it can also make doing so fun. You can compete with one another, which will in turn motivate you to work harder. Also, scientific studies show that working out with a partner improves weight-loss results. UCLA third year Anthropology major, Madelyn Whittle, finds going to the gym easier because she has her friends to push her when she does not feel like working out, stating that "having a partner can help you push yourself and set new goals." However, finding a partner can be difficult if none of your friends workout, so here are some ways to find a partner.
      

Workout In the Morning
This might be harder than drinking the necessary amounts of water each day, but research shows that working out in the morning for at least 30 minutes, five to seven times a week helps to improve sleep, which is a major part of losing weight. Working out in the morning has also been shown to promote routine, meaning there's a better chance you'll stick to it and not skip a session. And since exercising releases hormones that help to relieve stress, you'll be in a better mood throughout the day
  

Do things You Find Fun!
Exercising doesn't have to be a chore. You can work out while doing something you love. Go rock climbing. Join a dance class. Find a hiking trail that leads to a waterfall. Kayak. Anything that gets your heart racing and adrenaline pumping while also being fun is a great way to get in shape. UCLA Neuroscience Major, Mariamu Osumah, finds playing recreational basketball is her fun source of exercise. "I love it, so it doesn't feel like I'm actually working out because I'm having fun". If it's something you enjoy doing, chances are you'll keep at it, and turn getting that summer body into keeping that body all throughout the year.
At the end of the day, working out can be your best friend, but first you have to take the initiative to get out there and do it. Plus, if you look great, you'll feel great too!
Finding the will to start may be the hardest part, but you better hurry because that summer body's not going to sculpt itself!