On March 2, the decision was made by the Dr. Seuss Foundation to stop publishing six of its titles because of its racist imagery. The books: "And to Think I Saw it on Mulberry Street", "If I Ran the Zoo", "McElligot's Pool", "On Beyond Zebra!", "Scrambled Eggs Super!", and "The Cat's Quizzer" displayed varying degrees of offensive imagery. "And to Think I Saw it on Mulberry Street" contains a character meant to be Asian with lines for eyes while carrying chopsticks. "If I Ran the Zoo" contains two "African" characters illustrated to mimic monkey/gorilla features carrying exotic animals.
A study published in 2019 in the journal "Research on Diversity in Youth Literature" examined 50 of the Dr. Seuss books, and observed that 96 percent of the characters of colour were drawn to have offensive, Orientalist features perpetuating a harmful, stereotypical portrayal of Asia while also exhibiting anti-Black characteristics in their Black characters.
The announcement sparked immense backlash online largely from the conservative community. Their complaint's regarded this as an example of cancel culture taken too far, and that it was blatant censorship. Seeing as the organisation made the decision independently, it is questionable if cancel culture or censorship were the direct cause for recalling past publications.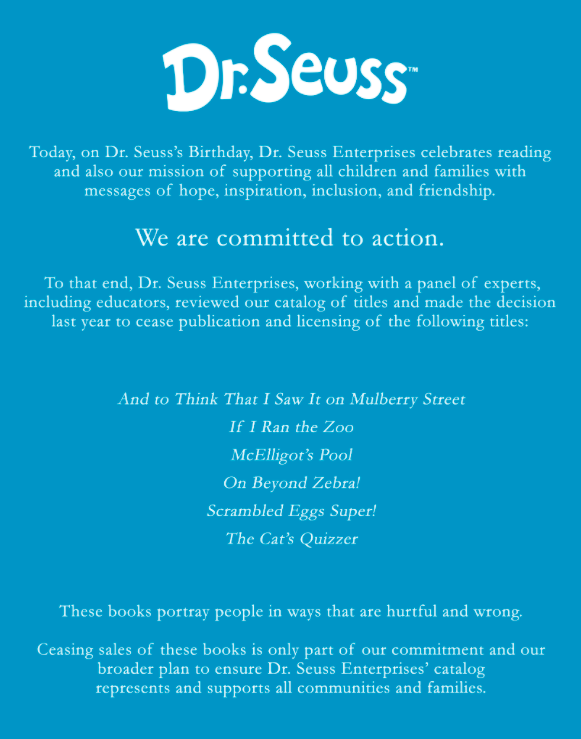 What stands as most important is that the independent decision made by an organisation to get rid of outdated, harmful, and offensive work/imagery is entirely theirs to make. The Dr. Seuss Foundation is neither the first nor will be the last organisation to do so, and thereby these actions should be encouraged rather than met with backlash. From nations, to organisations, to the individual level, addressing problematic material and/or past actions is never a decision that should be discouraged. This act represents growth, and pushes the expectation held for everyone to create a more accepting, tolerant society.