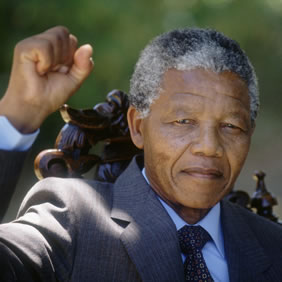 The world has endured the loss of a legend.  An illustrious symbol of South Afrika's bold triumph over apartheid, Nelson Mandela passed away December 5, 2013 at the age of 95 after an extensive battle with lung infection. Known to his countrymen as Tata Madiba, he was considered the father of the Afrikan nation.
"Our nation has lost its greatest son. Our people have lost a father…nothing can diminish our sense of a profound and enduring loss," said South Afrikan President Jacob Zuma.
Zuma declared a national grieving period in the days leading up to Mandela's funeral.
After 10 days of mourning, today the revered anti-apartheid icon was laid to rest in his home village of Qunu.
 Nelson Mandela first became involved in revolutionary politics when he joined the Afrikan National Congress (ANC) in 1942; the organization was devoted to fostering non-violent action against white minority rule. After 20 years of directing a diplomatic campaign against the oppressive South Afrikan régime, Mandela moved to armed resistance. His transformation in approach was the result of the horrendous treatment and slaughter of Blacks in South Afrika. He co-founded a militant extension of the ANC titled, Umkhonto we Sizwe (MK), which initiated bombing attacks against the apartheid administration.
In 1964, Mandela was sentenced to life imprisonment for conspiring to overthrow the government. While imprisoned, he became internationally known as a champion of opposition to racial prejudice and persecution. In the mid-80s, he was offered freedom on the condition that he renounces violent resistance to apartheid—Mandela refused; he held that "only free men can negotiate."  Fervent global outcry for his liberation eventually led to his release on February 11, 1990 after being imprisoned for nearly three decades.
Once released, Nelson Mandela rallied fiercely to end apartheid. His freedom was not enough for him—he desired the same for his fellow countrymen. "Freedom is indivisible; the chains on any one of my people were the chains on all of them, the chains on all of my people were the chains on me."
Increasing violence in the country compelled him to enter into negotiations with South Afrikan President F.W. De Klerk.  The duo agreed on a multiracial general election and constitutional democracy; the aforementioned compromise led to Mandela and de Klerk being awarded the Noble Peace Prize.
1994 marked the end of apartheid and Nelson Mandela was elected as the first Black president of South Afrika. After serving his presidential term, he became a human rights advocate and was especially active in combating poverty and AIDS.
 Nelson Mandela was the embodiment of principle and perseverance. He dedicated his life to the struggle for the rights of his people.  He "walked…[a] long road to freedom" and his journey has now come to an end. Yet, his incredible example has inspired millions around the world to carry on in the fight for liberty.
Author: Sharila Stewart
Nommo Staff