In elementary and high school we are told the brave and historic story of Rosa Parks and how her refusal to move from her seat on the bus changed the course of history. On Wednesday, April 27th visiting lecturer Jeanne Theoharis from Brooklyn College spoke about her biography, The Rebellious Life of Mrs. Rosa Parks which was published in 2013.
Theoharis' goal for her biography was to challenge representations and to clear political excuses that were made about Parks' actions that led to the Montgomery Bus Boycott.
Theoharis began writing Parks' biography in 2005 after Parks' funeral as well as her discovery that there were no full biographies on Parks, except for ones you will find for elementary kids. The information she compiled together consists of both NAACP papers and Parks notes from Highlander Research and Education Center as well as oral histories, many being done in Detroit.
The Montgomery City Code required that all public transportation be segregated, and that bus drivers had the powers of a police officer while in actual charge of any bus for the purposes of carrying out the code. When an African-American passenger boarded the bus, they had to get on at the front to pay their fare and then get off and re-board the bus at the back door.
A misconception of Parks is that the refusal to move from her seat was her first instance of being politically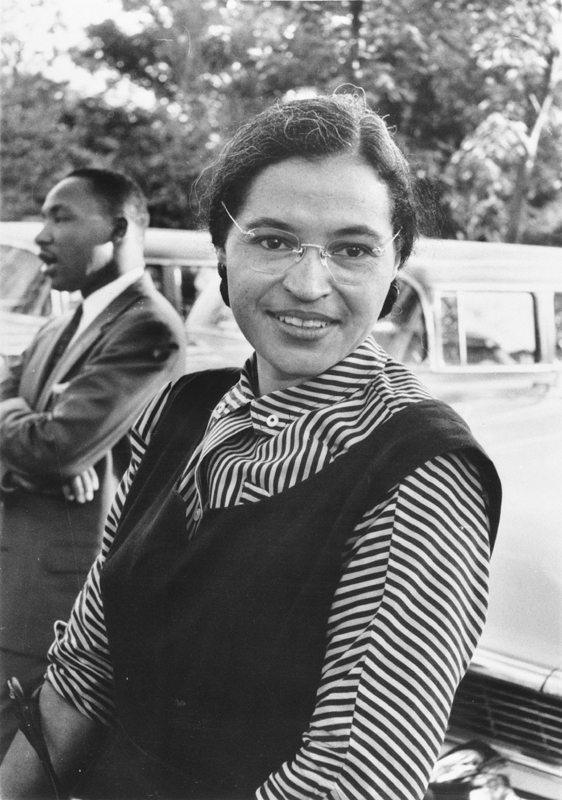 involved, when in actuality she had been involved for many years, beginning in the 1940s, as well as that she was kicked off the bus a few times prior to the boycott for refusing. Another is Parks' being the first African American to refuse, except there were three other women who also refused to move from their seats: Viola White, Helia Brookes, and Claudette Coleman.
Parks was actively involved in civil rights issues after she joined the Montgomery chapter of the NAACP in 1943, serving as the chapter's youth leader as well as secretary to NAACP President E.D. Nixon—a post she held until 1957.
On the morning of the boycott leaders from the African-American community gathered at the Mt. Zion Church in Montgomery to discuss strategies, and determined that their boycott effort required a new organization and strong leadership. The group therefore formed the Montgomery Improvement Association, where they elected newcomer Dr. Martin Luther King Jr. as minister of the Dexter Avenue Baptist Church, as the group believed that Parks case provided an excellent opportunity to take further action to create real change.
Theoharis' book, The Rebellious Life of Mrs.Rosa Parks, documents Parks' life from the time to she met her husband Raymond, who was also politically active, to the end of her life where she was still honored for her achievements and persistence for change. On February 4, 2013, what would have been Parks' 100th birthday, a commemorative U.S. Postal Service stamp debuted, and later that month, President Barack Obama unveiled a statue honoring Parks in the nation's Capitol building.
Theoharis' lecture was not only informative, but enlightening for she had done extensive research on Parks' life through different avenues and having to carefully fact check her information. With having to look thoroughly for information, Theoharis spent eight years writing the biography because there was not enough information about Parks' life in books which led her to discover the NAACP documents and interviews that Parks had done.
For this lecture to be given on campus spoke volumes as to how Black history is not fully discussed, unless it is a specific course, and that only one side is typically spoken about.