Written by Mia Glionna
With the USAC election around the corner, it is important for us all to be educated on who we are voting for. USAC is more than student government—it is a collective of students dedicated to representing the needs and interests of the student body as a whole. Making an educated vote in this election is a crucial part of making improvements that benefit student interest. As Afrikan Student Union (ASU) Vice President Joshua Jackson states, "USAC holds a lot of power…it is critical that we are aware of what we are voting for." This is especially important with the context of getting the demands of the ASU met in the upcoming year. Josh urges Black Bruins to "start familiarizing ourselves" in order to get ASU demands met, including a Black Resource Center. However, without a central space for candidate information, it can be hard to make that decision.
This is where we come in. We streamlined available candidate information from across the Web and USAC Election Board events so that you can make a well-informed vote during election week. I urge you to take some time and read this information prior to or while you are making your vote. Hours of hard work and research has gone into this election guide—hours that you now don't have to spend when voting.
The information in this list is a compilation of candidate information from election board-approved social media campaigns, USAC Candidate hearings and debates, and personal interviews. As a constituent of Afrikan Student Union, we are also highlighting who is endorsed by ASU and why. ASU endorsed candidates based upon their support and ability to meet ASU demands and the representation of ASU members within USAC.
This list is compiled of information researched both in person and online—if any candidate seems to be lacking information, this reflects the amount of information I was able to find. Feel free to explore links to candidate information pages for more information. #TrueBruinsVote
---
President
Robert Blake Watson (Independent)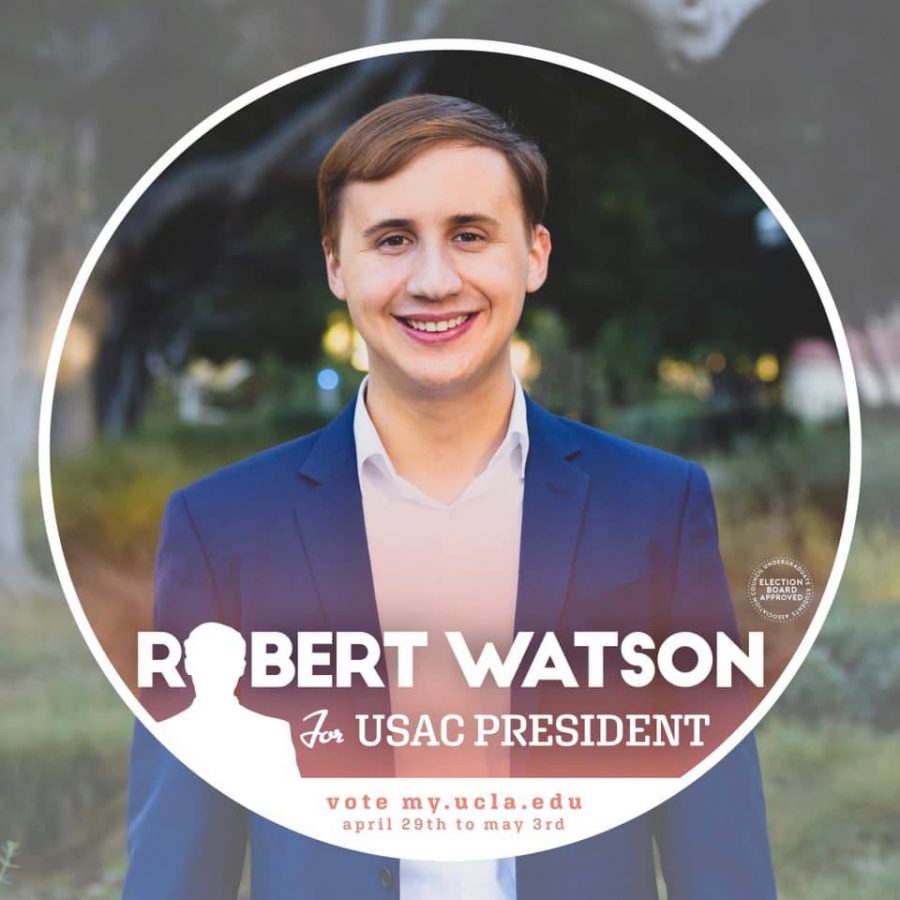 Platforms
Recreate the Presidential Search Committee to make appointments fair and inclusive

Permanently provide free blue books and scantrons to all students

Make laundry services inexpensive

Publicize UCLA Basic Needs Committee meetings

Restructure on- and off-campus housing to be more queer and trans inclusive

Work with ASU, UCLA Recreation, and ASUCLA Board of Directors to meet ASU demands and create a Black Resource Center  
Experience
Current USAC Internal Vice President

3 years of USAC experience in Office of the President, the internal Vice President, and the General Representative

Restarted Campus Safety Alliance

Head director of Good Clothes, Good People

Started Good Clothes Good People, UCLA's first basic needs redistribution center

Reinstated Spring Enormous Activities Fair

Connected 180+ student organizations to funding resources

Vocal proponent for ASU demands as Internal Vice President
Endorsed by ASU for his history of support and taking action to meet ASU demands as Internal Vice President. During the Black Out protest at the UCLA vs. USC basketball game, Robert helped ASU get in contact with Daily Bruin to publicize their cause, and has already worked with ASU staff and UCLA Recreation to explore potential spaces for the Black Resource Center. The ASU demands were a central component to how the organization chose to endorse candidates, and ASU believes that "[Watson] has more understanding of how that's going to happen."
More information for Robert Blake Watson's campaign can be found here.
---
Millen Srivastava (Independent)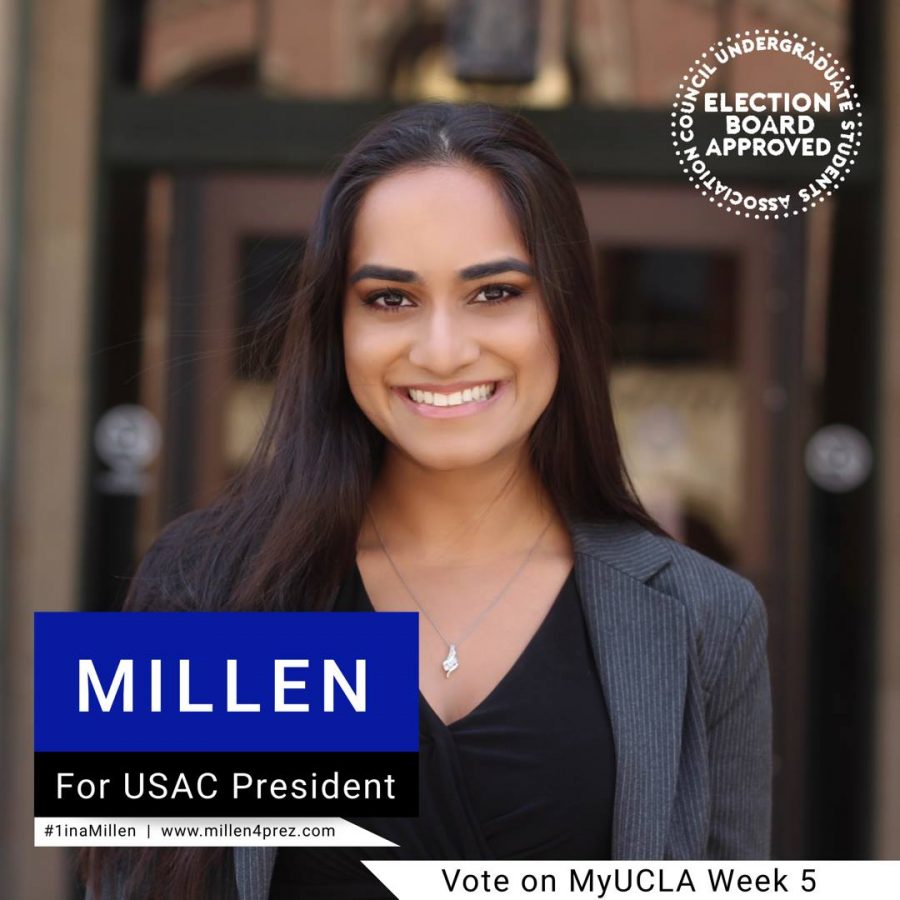 Platforms
Create a reproductive justice health center on campus with rape kits, affordable STI testing, and accessible sex education

Advocate for more CARE and CAPS funding from the administration

Guides on the functional use of Automated External Defibrillators (AEDs), more education and awareness on heart disease prevention

Expansion and continuation of the UC Women's Leadership Conference

Start INTERSECT: Womxn's Connection and Communication Council

Create an all-inclusive accessible UCLA YouTube channel

Make STEM materials more affordable, create a pre-med/pre-health guidance and career center

Further develop Scholarship portal on MyUCLA, advocate for more out-of-state and international student scholarships
Experience
UC Women's Leadership Conference Executive Director

Social Media Director for USAC Office of the Internal Vice President

Former Affordability Advisor for Financial Supports Commission

Director of Public Relations for Sudden Cardiac-death Awareness Foundation

Former National Youth US Ambassador for the United Nations

Member of UCLA Kappa Delta Sorority
More information for Millen Srivastava's campaign can be found here.
---
Furkan Yalcin (Independent)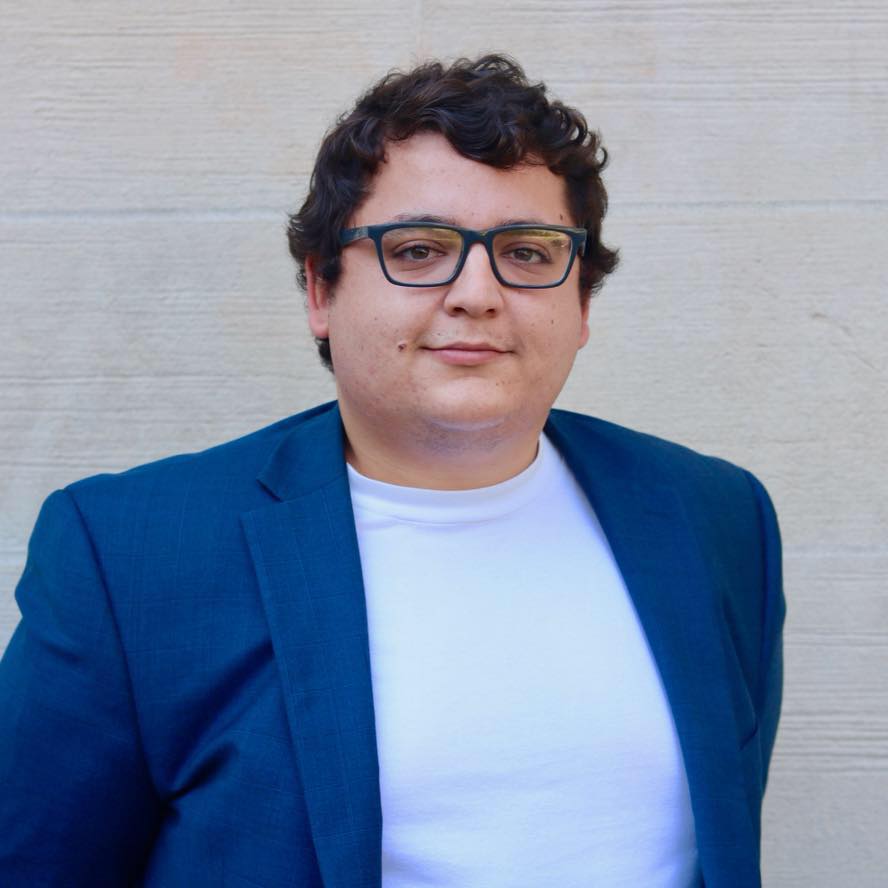 Goals
Get people to vote

Highlight his role as a true outsider of USAC
Experience
UCLA Radio News Manager

UCLA Shenanigans Comedy Club
---
Internal Vice President
Kimberly "Kim" Bonaficio (For the People)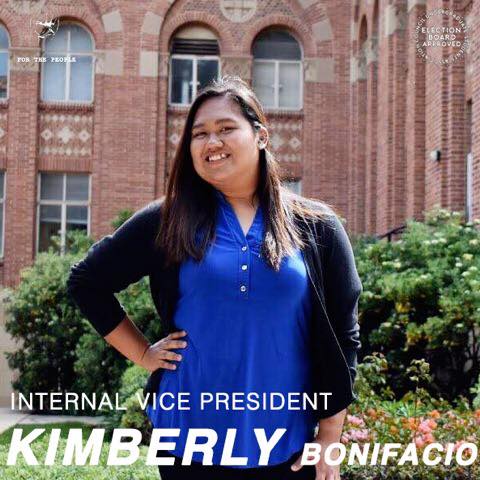 Platforms
Create a Student Advocacy Partnership so that student groups can bring up concerns and issues on campus

Provide grassroots organizing training to guide students on how to advocate for themselves and their communities

USAC website makeover with updated funding applications, streamlined USAC office staff positions, and an apartment database

Re-establish Campus Safety Awareness Week and expand the oversight of Campus Safety Alliance
Experience
Samahang Pilipino Retention Coordinator

Former Student Activist Project Intern

Samahang Pilipino First Year MVP

Samahang Teaching Through Experience Program (STEP) Intern
More information of Kimberly Bonaficio's campaign can be found here.
---
External Vice President
Johana Guerra (Independent)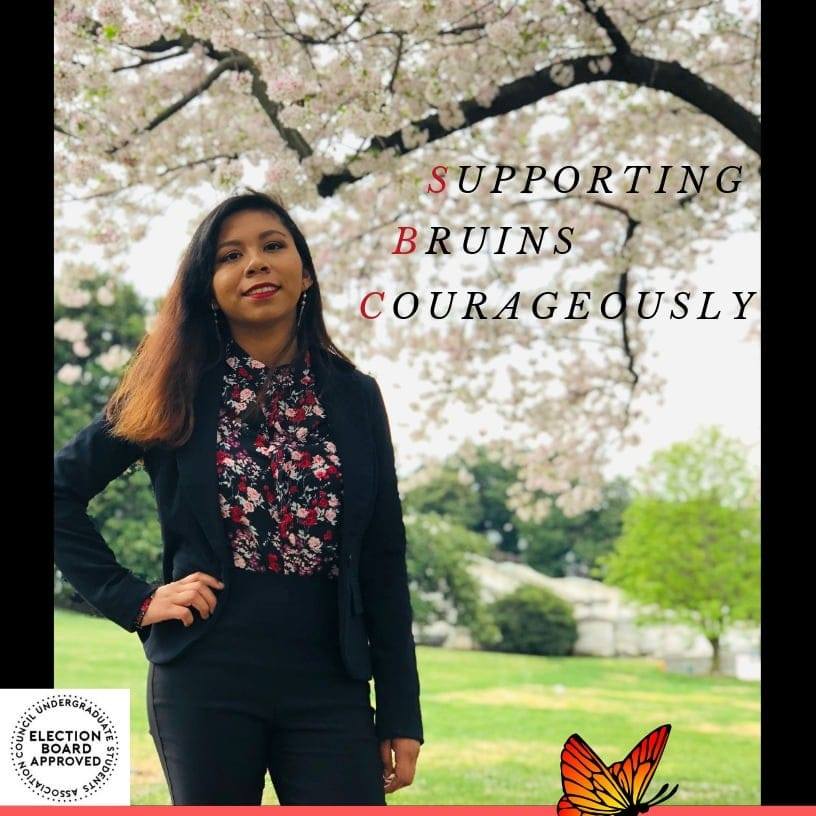 Platforms
Divest from ICE and prevent them from being allowed on campus

Support AFSCME's demands and provide sanctuary for all

Advocate for students' basic needs: finances, housing, food

Implement Deportation Defense Initiative
Experience
Active supporter of California Dream Act and Promise Act

Has been working with student coalitions such as Student Labor Advocacy Project, Mother Organizations, UC Student Association, and USAC since her first year

Advocated for statewide and federal funding for basic needs programs across the UC system for the past year

Hosting and leading the upcoming UC Undocumented Student Conference this May
More information on Johana Guerra's campaign can be found here.
---
General Representative
Eduardo "Lalo" Velasquez (For the People)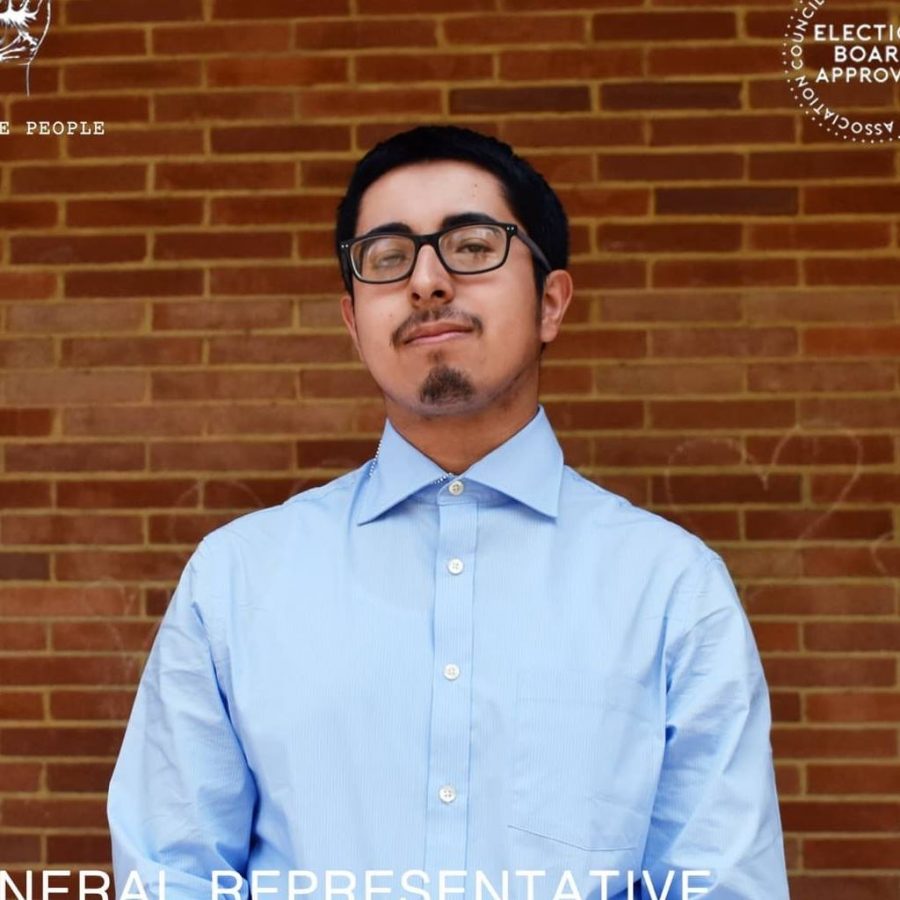 Platforms
Advocate for more one-on-one support from the Center of Accessible Education

Implementing sensitivity training in CAPS to better support marginalized communities

Increase funding of cultural events on campus

Waiving study list charges to increase accessibility to low-income students
Experience
MEChA De UCLA Raza Youth Conference

Academic Peer Counselor in MEChA Calmecac

MEChA Internal Vice-Chair
More information on Eduardo Velasquez's campaign can be found here.
---
Academic Affairs Commissioner
Naomi Riley (For the People)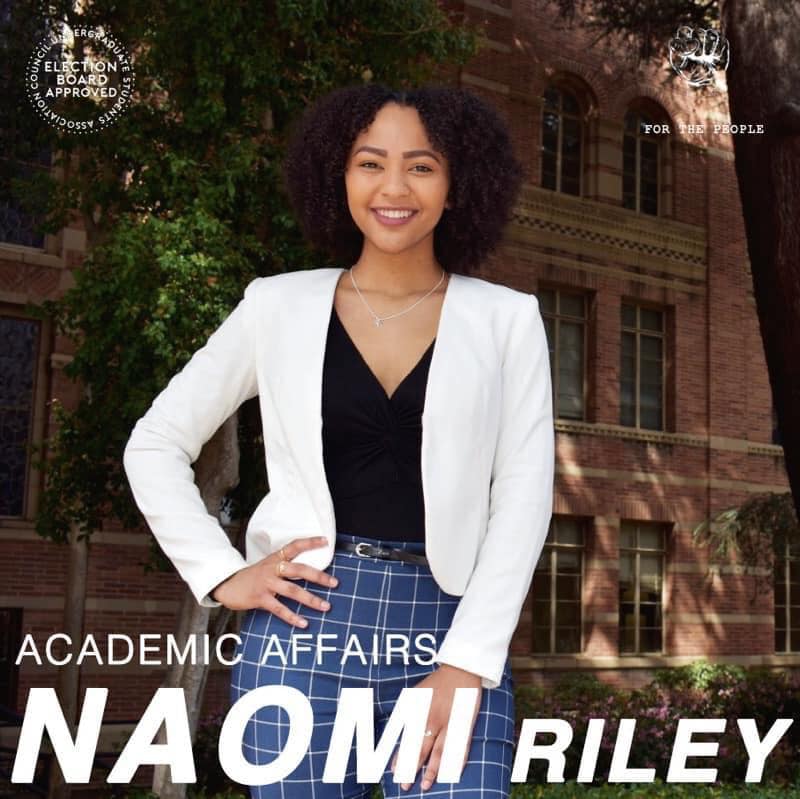 Platforms
Make Academic Senate a paid position to incentivize it

Dismantle SAT requirement

Increase book lending time and use of online textbooks

Increase late-night study spaces on the Hill and on campus

Implement trauma-informed practices for UCLA staff and faculty, mental health awareness initiative, priority enrollment for moms, and more AAC activities on social issues
Experience
2 years in Academic Affairs Commission

Academic Advancement Program Peer Counselor

Afro-Latinx Connection Executive Board Member

Started free i-Clicker program in AAC in 2018
More information for Naomi Riley's campaign can be found here.
Endorsed by ASU "We understood that USAC is a space that ASU hasn't had access to," Josh says. With that in mind, ASU endorsed Riley for her history within ASU, the work she has done to benefit Black Bruins in AAC so far, and her commitment to making USAC more accessible for all students.
---
Oscar Macias (Independent)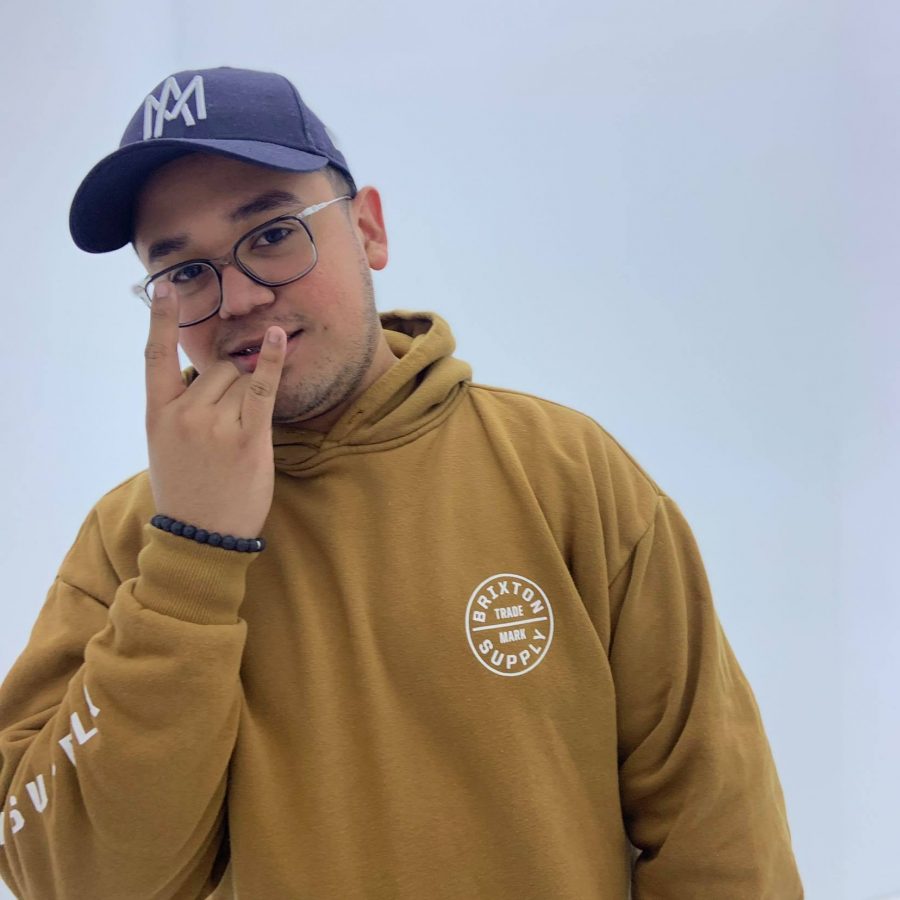 Platforms
Basic Needs

Equitable admissions

Transparency and Accessibility
Experience
Chairperson of Student Initiated Outreach Committee

Student Activities Center Board of Governors

Campaign Manager of Beyond the Score
More information for Oscar Macias' campaign can be found here.
---
Campus Events Commissioner
Tara Steinmetz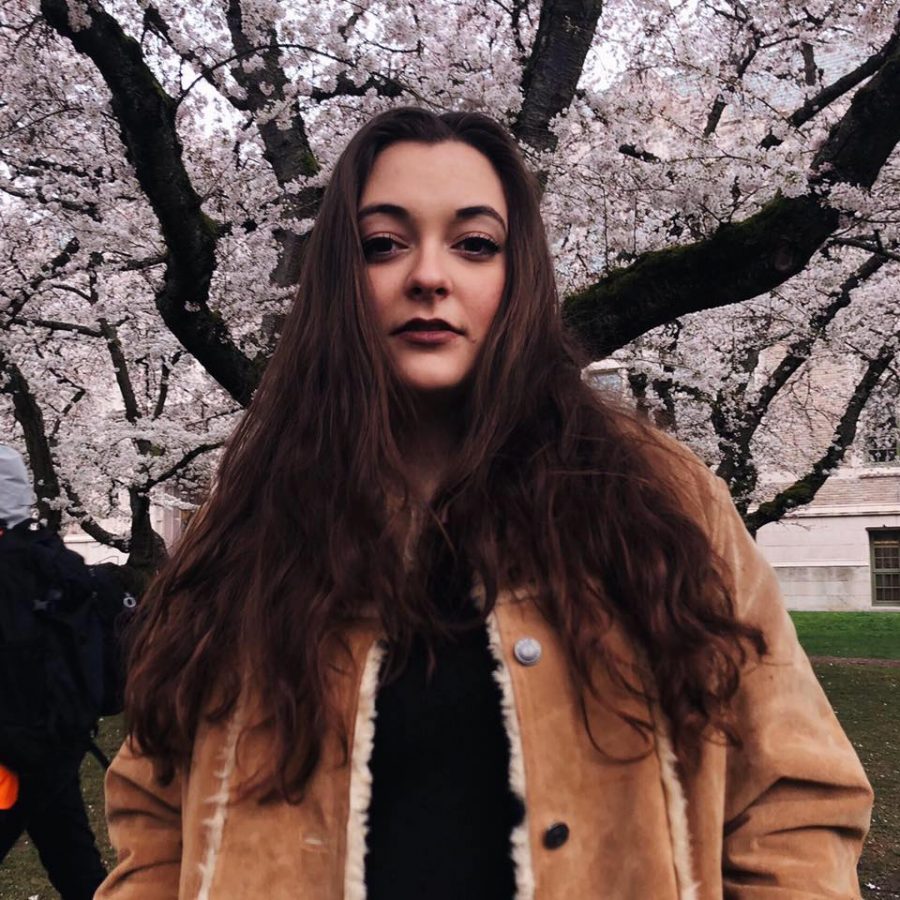 ---
Community Service Commissioner
Jonathan Wisner (Independent)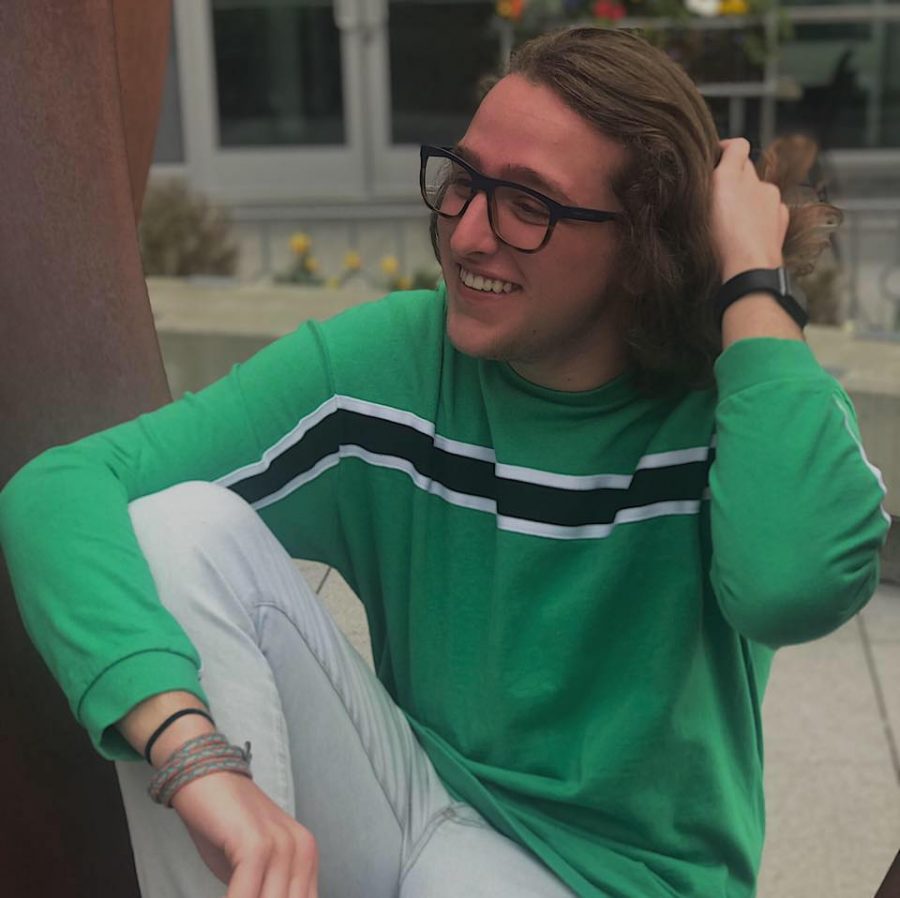 Goals
Make Community Service Committee (CSC) the hub for all service-minded students through intentional events to bring students is

Make CSC a more accessible knowledge center through open office hours and sharing resources

Continue building relationships with other entities on campus

Evaluate the effectiveness of staff structure and make changes accordingly

Bring CSC to the forefront of social change
Experience
2 years of being on CSC staff

Worked with Swipe Out Hunger to fight food insecurity

Resident Assistant on the Hill
---
Cultural Affairs Commissioner
Kelechi Iheanacho (For the People)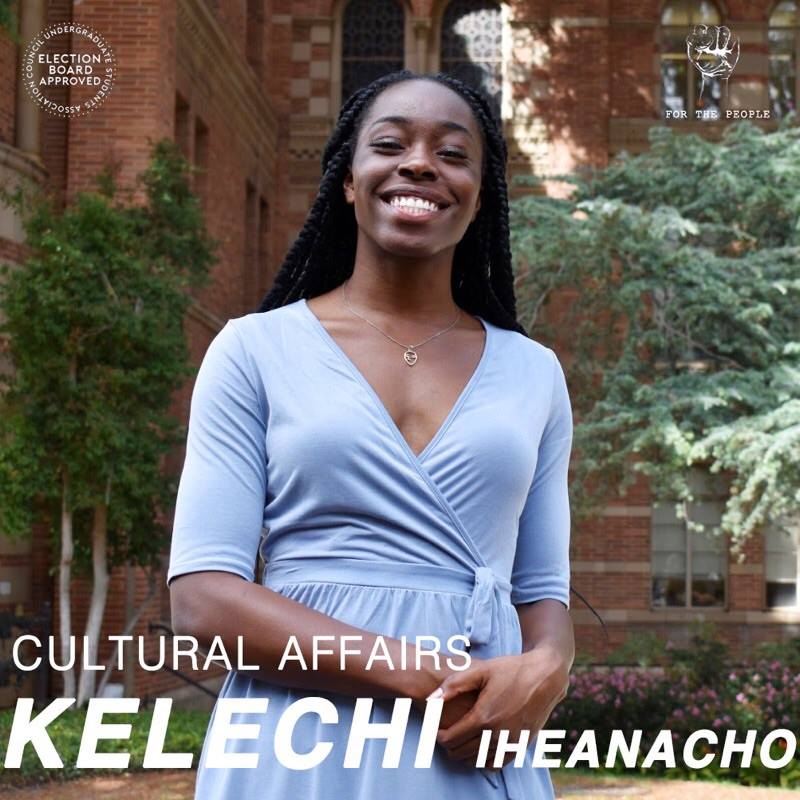 Platforms
Alleviate food insecurity on campus

Increase funding resource accessibility

Institutionalize anti-blackness training

Expand CAC's Community Fund
Experience
3 years in Cultural Affairs Commission

1 year as CAC Worldfest Director
Endorsed by ASU for representing Black Bruins within USAC and her commitment to using her platform to help fellow Black Bruins on campus. "Representation is important," Josh says, "It is important that ASU is a space where we support [our] students."
More information on Kelechi Iheanacho's campaign can be found here.
---
Facilities Commissioner
Lily Shaw (Independent)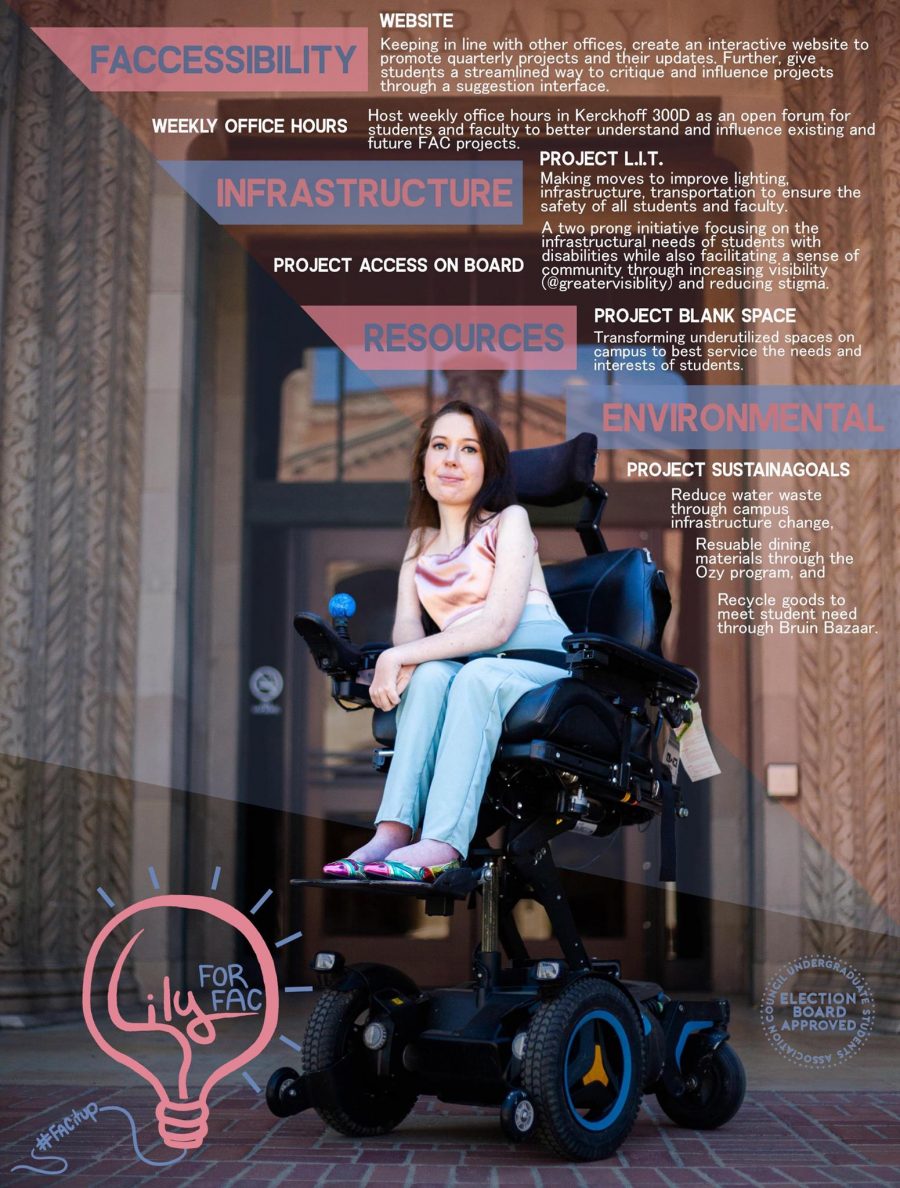 Platforms
Increase accessibility to Facilities Office via streamlined website and weekly office hours

Improving lighting, infrastructure, and transportation to ensure student safety

Focusing on the infrastructural needs of students with disabilities while creating a sense of community

Making use of underutilized spaces of campus for students' best interest

Reduce water waste of campus, implement reusable dining materials, recycle goods through Bruin Bazaar
Experience
University Committee on Disability

Director of Greater Visibility Project via Facilities Commission
More information for Lily Shaw's campaign can be found here.
---
Student Wellness Commissioner
Ty Pearson (Independent)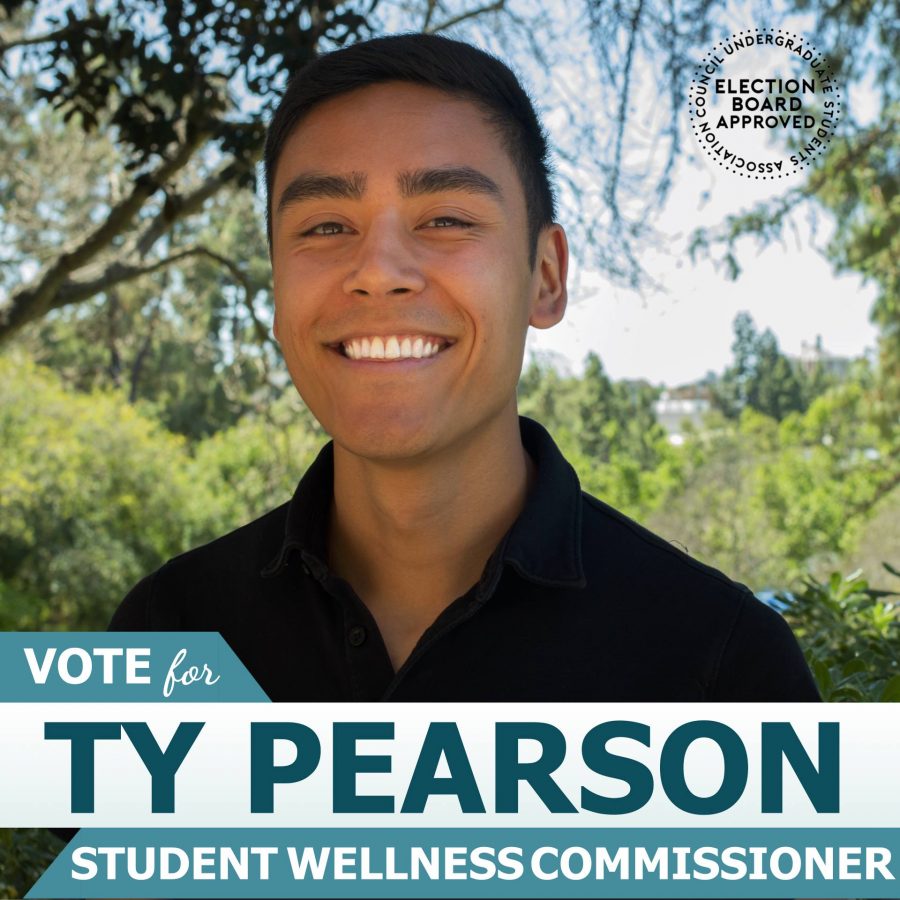 Platforms
Advocating for food justice and addressing food insecurity through community organizing

Campus-wide dispensary stations for basic necessities

Acknowledge the ways that politics affect students' health within Student Wellness Committee (SWC)

Fight against rising costs of UC SHIP with health insurance fee waivers, subsidies, financial aid, and improved policies

Year-long campaign to destigmatize UC SHIP's resources such as contraceptives and STI medication

Implementing Crisis Management and suicide prevention training with the Office of Fraternity and Sorority Life
Experience
Co-Director of SWC BruiNecessities

CPO Basic Needs Committee

3 years of health advocacy experience

2 years of experience with UCLA CalFresh Initiative

Co-institutionalized menstrual hygiene and basic needs stations across the Hill
More information on Ty Pearson's campaign can be found here.
---
Mihika Sridhar (Independent)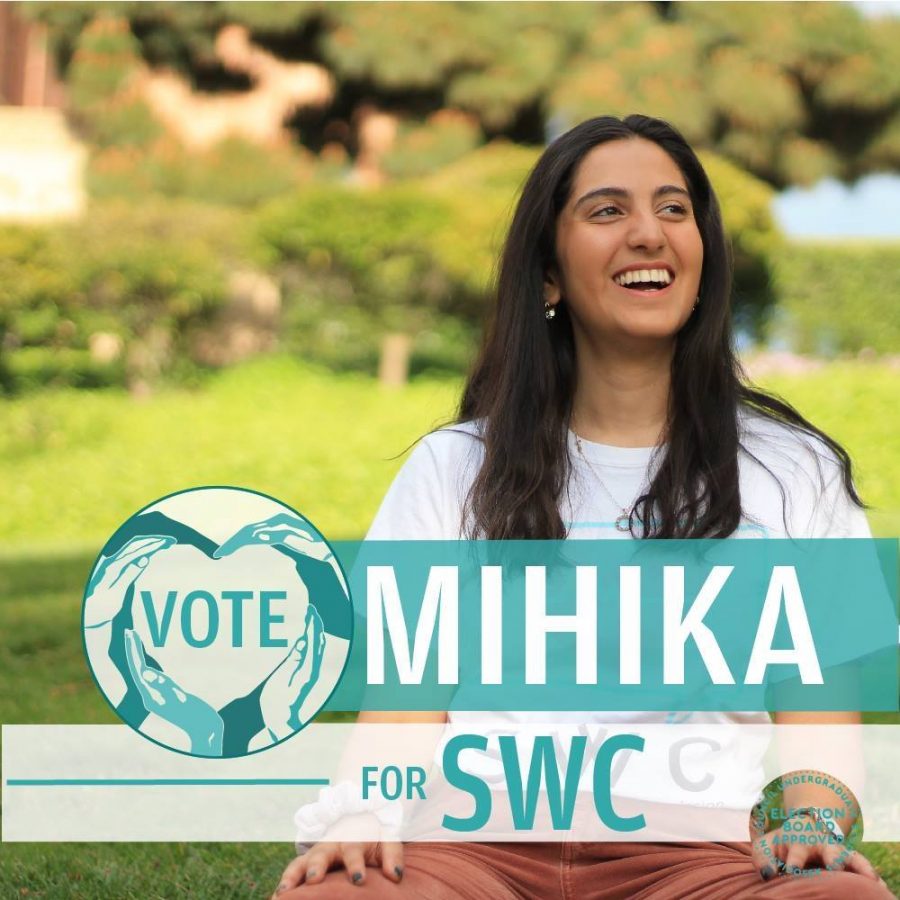 Platforms
Hold an annual week of culturally-conscious health programming

Establish Health Insurance Awareness Day with associated programming, with research-based instructional documentation on local health insurance providers

Make Title IX language more accessible to marginalized communities on campus

Placing body-positive messaging at various sites on campus such as gyms, restaurants, and libraries
Experience
Student Wellness Committee Body Image Task Force

Student Wellness Committee RollAIDS AIDS Awareness Campaign

Raised awareness of gender-based violence survivors through UCLA Taara dance organization
More information on Mihika Sridhar's campaign can be found here.
---
Transfer Student Representative
Isabel Oraha (Independent)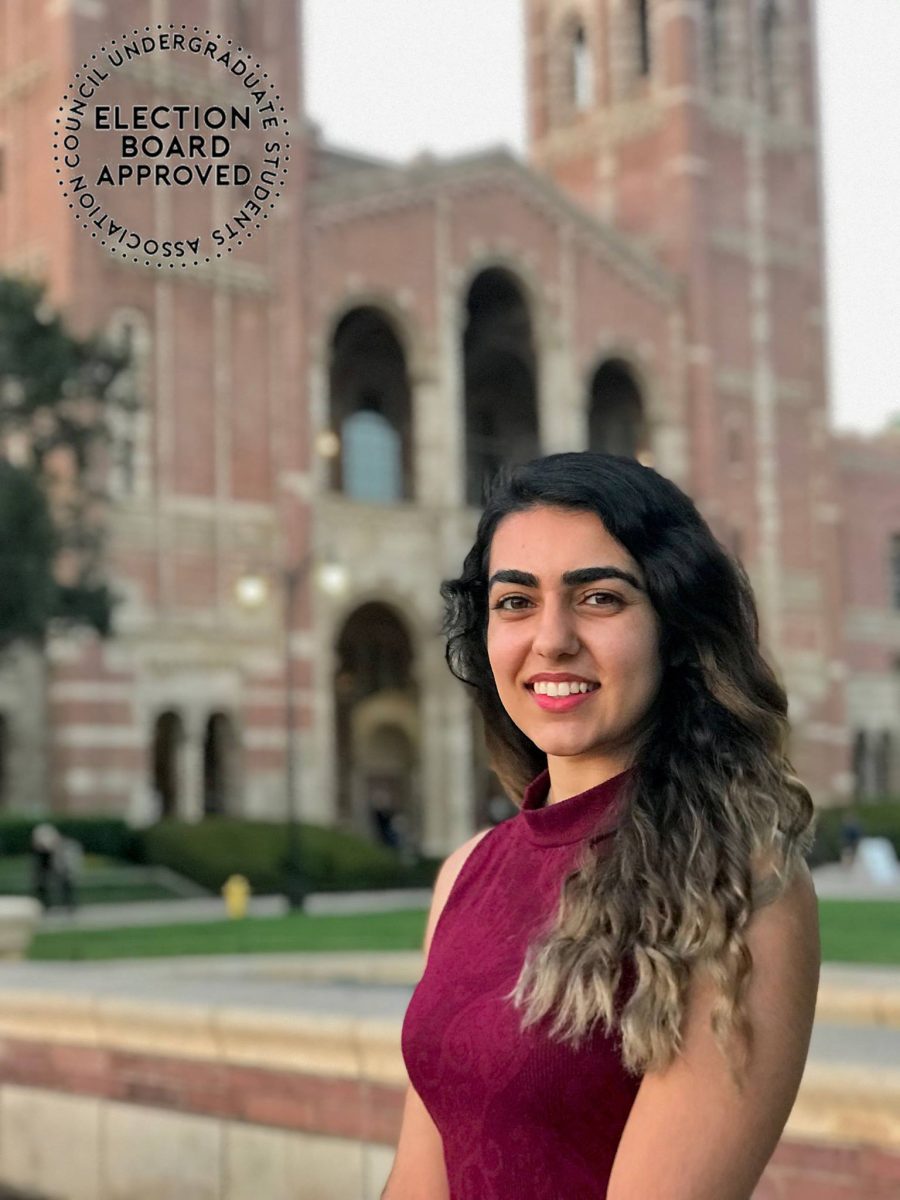 Platforms
Improve the structure of Transfer Student Representative (TSR) Office so that it can be passed down easily
Experience
TSR Office Director of Outreach and Student Affairs
More information on Isabel Oraha's campaign can be found here.
---
International Student Representative
Shahamah Tariq (Independent)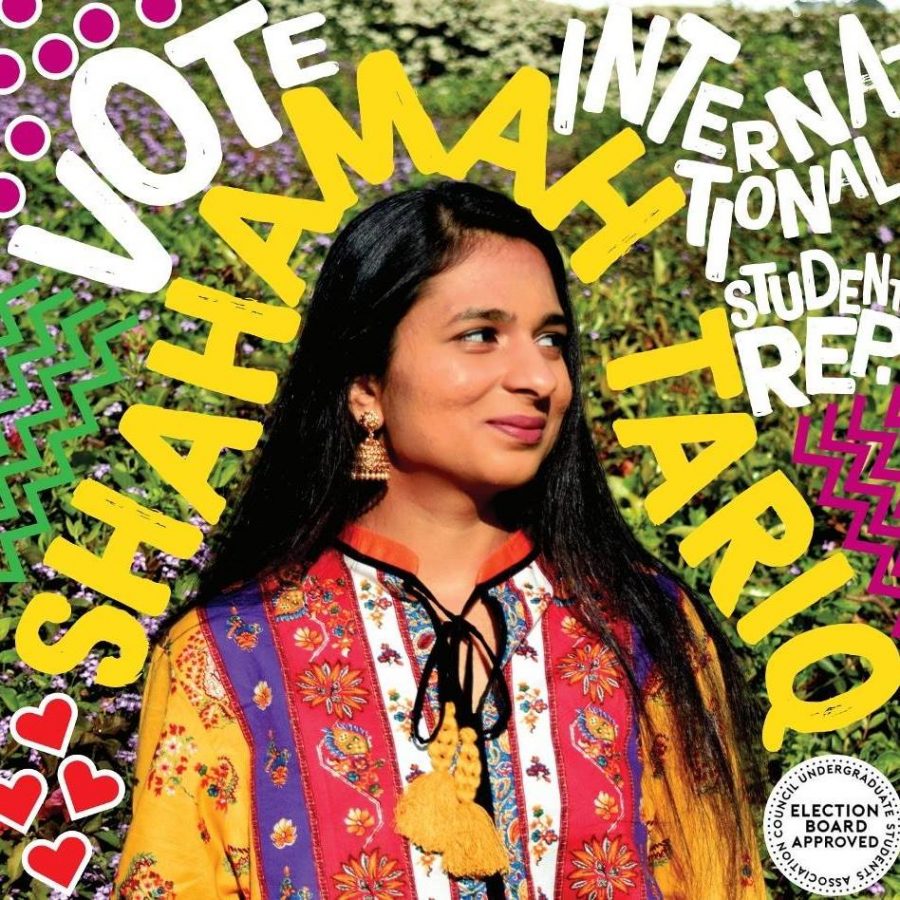 Address food and housing insecurity faced by international students

Organize international themed events with cultural organizations across campus to raise awareness of different cultures at UCLA

Create spaces such as International Town Hall and Culture Night

Establish a social media presence for international students

Inform international students about professional and academic opportunities at UCLA and post-graduation, such as by raising awareness on OPT/ CPT and on receiving credit for international examinations

Strengthen communication between international students and administration to further international student advocacy efforts on campus and at a UC-wide level
Experience
Pakistani Students Association Director of Social Affairs

International Scholarship Director at USAC General Representative 1

New Student Advisor at New Student & Transition Programs
More information on Shahamah Tariq's campaign can be found here.
---