Concept by India Lewis
A year after Willa Bruce's descendants fought and won their rights to her Manhattan Beachfront Lodge and Resort, they have now decided to sell it back to the City of Los Angeles. Willa Bruce purchased Lot 8 on Block 5 on 26th and 27th St. in Manhattan Beach, California in May of 1912. This was a huge achievement for an African American woman nearly forty years post the Civil War. The property was stripped away from the Bruce's when the City of Manhattan Beach's set policies and ordinances impossible for the Bruce's to keep up to date. By 1924, eminent domain on the Bruce's two blocks of property was enforced with the goal for the city to create a park. Willa knew the condemnation of her beach property was a result of racism. She called out the blatant discrimination in a 1924 meeting regarding the property's seizure, and council members admitted to in later interviews.
Now, the only lasting memory of Willa's legacy is sign recognizing what was once there. Bruce's Beach stands as a commemoration of what was a community center, café, beach and surf rental shop and safe place to swim for Black Californians. As the property was returned to Willa's descendants in recent years, it comes as surprise to many that the family would sell the land back after an extended fight for restorative justice. $20 million dollars, which NPR states will help the Bruce's "rebuild the generational wealth they were denied." These blocks are now home to the "historic park," which displaced the Bruce's, and several multi-million-dollar homes.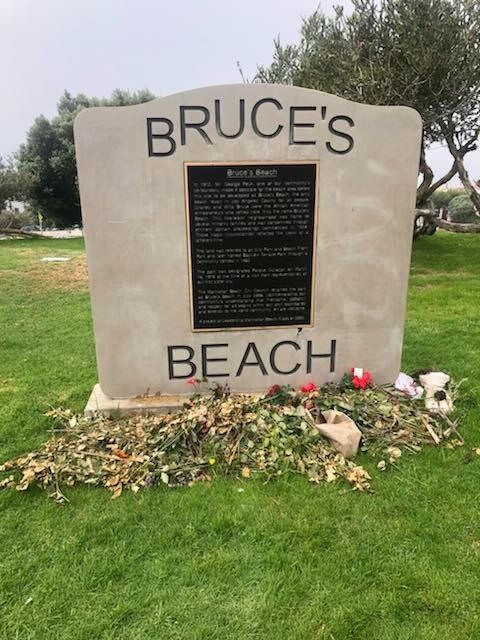 The resale of Bruce's Beach back to Los Angeles County symbolizes another loss of Black cultural centers, especially in predominantly white areas. The goal for the Los Angeles County should be to commemorate the legacy of Willa and Bruce's Beach through project development and community investment. Filmmaker and UCLA African American Studies major India Lewis has been following the Bruce's story since 2018. She says, "I think history is repeating itself. I feel that this was generational wealth that could have been passed on, but I think I may have some productive ways the city can reinvest into the land with their new ownership."
Lewis proposes the development of a University of California Student Center in honor of Willa and Charles Bruce. In her proposal, the University of California would purchase the 26th and 27th block of Bruce's Beach and construct a three-tier multi-purpose student facility. This facility will combine Willa's original efforts at providing resources and building community by housing various student resources, such as Counseling and Psychological Services (on the beach!), career and volunteer opportunities, departmental offices for research in marine biology, environment and sustainability, and social services. In addition, the UCs ownership of a private beachfront could serve different groups as a student event location, beach volleyball practice courts, and host of UCLA Volunteer Day Beach Clean Ups.
Willa's legacy deserves to live on at Bruce's Beach and the University of California has the potential to make it happen. The UC is California' largest landlord, so if we aren't going to get our #LANDBACK…at least do something useful with it.