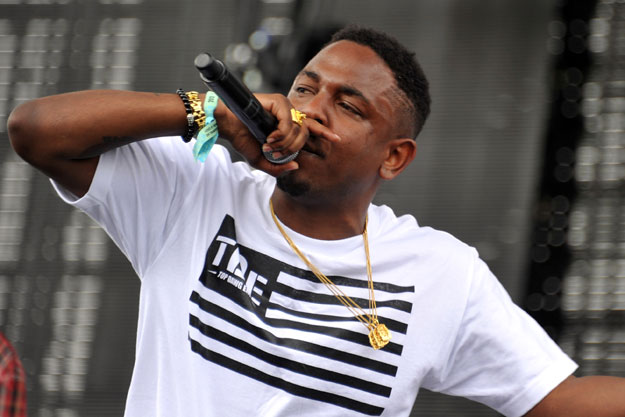 This past Sunday, the 56th Annual Grammy Awards caused quite a stir for rapper Kendrick Lamar, who was nominated for seven Grammys, but won not one. Most shockingly, he lost to Macklemore and Ryan Lewis for Best Rap Album.  Macklemore and Ryan Lewis' The Heist not only beat Kendrick's Good Kid, M.A.A.D City, but also Jay Z's Magna Carter… Holy Grail, Drake's Nothing Was the Same, and Kanye's Yeezus.
However, as it was a surprise to many that Kendrick Lamar did not win in any category, a debate sparked in the music world on the perpetual pattern of Black musicians' lack of recognition.
Yet, Macklemore expressed through Instagram his reaction to winning Best Rap Album:
"You got robbed.  I wanted you to win.  You should have.  It's weird and sucks that I robbed you.  I was gonna say that during the speech.  Then the music started playing during my speech and I froze.  Anyway, you know what it is.  Congrats on this year and your music.  Appreciate you as an artist and as a friend.  Much love"
Also, along with the Instagram post Macklemore addressed in his caption:
"My text to Kendrick after the show.   He deserved best rap album… I'm honored and completely blown away to win anything much less 4 Grammys.  But in that category, he should have won IMO.  And that's taking nothing away from The Heist.  Just giving GKMC it's proper respect.. With that being said, thank you to the fans.  You're the reason we were on that stage tonight.  And to play Same Love on that platform was a career highlight.  The greatest honor of all.  That's what this is about. Progress and art.  Thank you. #grammys"
Although, the fans can be thankful for Macklemore's acknowledgement that he did not deserve the award, the big question is why wasn't Kendrick awarded for any nominations?
One may argue that it has nothing to do with race or ethnicity. However, this calls into question the many other Black musicians, throughout the history of the Grammys, who also did not win the Award.  For example, Run-DMC, Tupac, Nas, Mos Def., The Notorious B.I.G., and Snoop Dogg (now known as Snoop Lion) fall under the "Never Won a Grammy" category.
Instead of a Grammy in a specific music based category, artist of color such as Bob Marley, Chuck Berry, Jimmy Hendrix, and Diana Ross have won the Grammy Life Time Achievement Award.
Is the Lifetime Achievement Award the category for prominent musicians whose race and ethnicity once got in the way of acknowledging their significant contribution to the music industry?  Taken into account that certain categories were not in place during the career of some of the musicians such as Best Rap Album, which did not become an official category until 1996.  But what about the many other categories such as Album of the Year, Best New Artist, Record of the Year, or even Best Dance Recording? Although music seems to progress, the music industry and its idea of "progress" is still at a standstill.
To the public, the number of Grammys a musician has defines his or her quality as a musician, and in Kendrick Lamar's case his quality as a rapper.  Yet, when a musician wins zero out of seven awards centered around or connected to the Hip-Hop genre, what is the excuse?  What is the basis of the judging system in deciding who wins Grammy Awards and who doesn't? Do Black musicians pressure and question the voting system, or do they let the music speak for itself?