There are an endless number of reasons to avoid eating healthy and working out. Though sometimes even when you do attempt to maintain your health, it is hard to be consistent. As a college student there are so many things to juggle that it becomes that much harder. Luckily, app developers have created programs to make it easier for you to keep track of you dietary intake and engage in beneficial fitness workouts. The apps listed below each add something unique to your health experience. All of the applications are free and available for iPhone and Android users.
EveryMove
This application provides incentive to be active by allowing users to put the points they earn for engaging in exercise towards different rewards offered through the app. A collection of brands and merchants have rewards you can win by collecting a set amount of points (e.g. $25 gift card to Trader Joe's for 2000 points). All types of physical activity can earn you points including biking, running and even simply walking. EveryMove also has the ability to connect to other fitness apps so that any activities you complete in a different application will transfer over.
Fooducate
This application helps individuals who struggle with figuring out what is in the food their eating. Fooducate allows users to scan the barcode on food products to pull up its nutrition. Grocery shopping for healthier products becomes much easier through this application. It also provides healthier alternatives for food you put into the app. The application also allows you to input your personal information, such as weight, height, activity level, and desired weight loss rate, to customize it to suit your needs. You can also track your exercise in this application.
HealthyOut
It's harder to avoid eating out nowadays, and when trying to watch what you eat it makes your choices seem limited. HealthyOut eliminates the hassle of finding healthy options while dining out. You can set up diet and nutrition preferences in the app (e.g. low fat, low calorie), and it will find dishes at nearby restaurants that are suitable for your diet.
Lose It!
This application helps organize your efforts for weight loss. Lose It! tracks your food and exercise as well as your calorie intake. By setting your weight loss goals the application can customize a weight loss plan suitable for your lifestyle. This app has the option to get involved with different weight loss and exercise challenges that can be completed individually or as a group with other app users. You can also gain support by connecting to social media through the app.
MyFitnessPal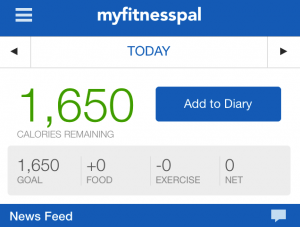 This is another app that aids in tracking your food and exercise. MyFitnessPal contains a database with over 3,000,000 foods making it easy to track you nutritional intake. It also has the option to input your own recipes so it can calculate the nutritional value of those meals. You can also use a bar code scanner to acquire the nutritional value of different foods. There are over 350 exercises, and you can track both cardio and strength training. You can also add custom exercises and enter your own calorie amounts for number of calories lost. It is also an option to gain support by adding your friends through the app to track each other's progress.
NIKE Training Club
Ever unsure what workouts you should be doing to get the results you want? This app includes over 100 full body workouts with step-by-step video and demos. You can choose from workouts that are 15, 30, or 45-minutes long. The application allows you to select and customize individual workouts or select a targeted program to help increase your fitness. Plus, the app can stream music from your library to supplement your workout.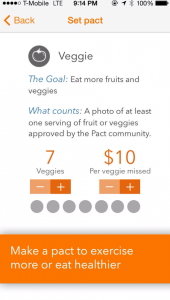 Pact
If you consider money a good motivator then this is an app for you. Every week you set exercise and healthy eating goals and pledge some amount of money. When you don't complete your goals you lose the money you pledge, but when you do complete your goals you earn money from the other Pact app users who failed to complete their goals.
The application allows you to check into the gym you're attending, track workouts via GPS, and take photographs of your food to verify your healthy eating. The app also connects to a selection of other fitness applications so that it can rack any goals you have completed and logged in other apps.
Runtastic Six-Pack Abs
If you're primary focus is getting your abs in shape this app focuses on just that. The app allows you to choose a personal trainer who demonstrates workouts on your phone. There are over 50 HD instructional videos for exercises of adjustable difficulty. The app contains pre-defined workouts as well as custom workouts that can be tailored to your target areas. Additionally, the app will match the intensity of your music to the intensity of your workout. Also, none of the workouts require any exercise equipment.