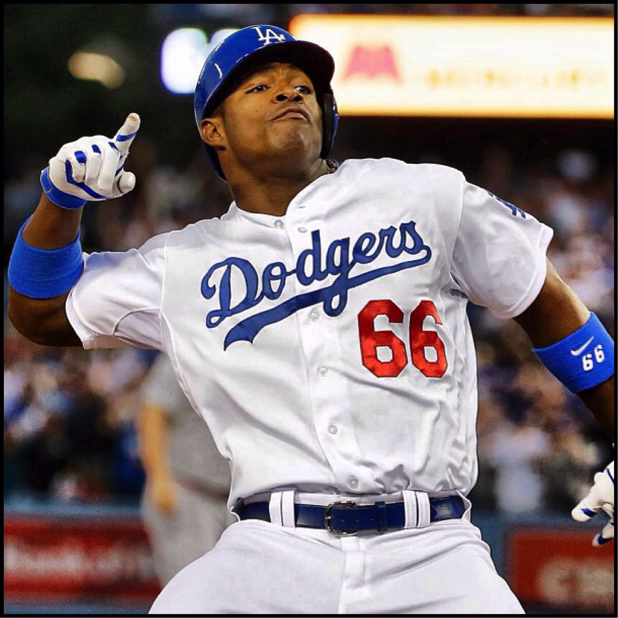 Yasiel Puig celebrates the recent success of the Los Angeles Dodgers (Official Los Angeles Dodgers Instagram/ October 14, 2013)
 ANGELES, Calif. (AP)- The Los Angeles Dodgers have had a magical season this year after a dreadfully slow start.  After being at (30-42), a season-worst 12 under .500 on June 21st with the season in danger of spiraling out of control, the Dodgers (92-70) finished the last 90 games with a 62-28 record, clinching the National League West Title and first playoff berth since 2009. Los Angeles defeated the Atlanta Braves 3-1 in the National League Series to clinch a spot in the National League Championship Series against the St. Louis Cardinals, with hopes to make their first World Series debut since 1988.
Don Mattingly and the Dodgers' recent success was sparked by a myriad of factors, but one that has made a lasting impression on Los Angeles fans is the rise of rookie sensation and right-fielder, Yasiel Puig.
Since his rookie debut, Puig has shined bright in the Hollywood spotlight. Notorious for his cockiness and aggressiveness on and off the field, he is making quite a name for himself and has quickly become one of the hottest players in Major League Baseball. Yasiel finished the regular season with a .319 AVG, 19 HR, and 42 RBI in 104 games, outstanding numbers for any Major League Baseball player.
Yes, the numbers are remarkable.  Yasiel Puig is a very talented athlete with an even brighter future. Yes, chants of "PUUUUUIIIGGGG!" fill Dodgers Stadium when he is up to bat. But, everything hasn't always been a walk in the ballpark for this young superstar.
Yasiel Puig is a 22-year-old baseball player of Cuban descent. Born and raised in Cienfuegos, Cuba, he played baseball all throughout his childhood. He played on the Cuban National Team in 2008 in the World Junior Baseball Championship and the 2011 World Port Tournament. He also played for the Cienfuegos team in the Cuban National Series from 2008-2010.
In 2011, he unsuccessfully attempted to defect to Cuba with his teammate Gerardo Concepcion.  His teammate was fortunate have a chance to make it to America to sign a six million dollar deal with the Chicago Cubs, leaving Puig to dream for the opportunity for a better life outside of Cuba.
On a yearly basis, thousands of Cuban natives try to escape the confinement of the Cuban government in search of freedom and job opportunities in America. According to the National Coast Guard, since January 2000 more than 200 of those people have died on their voyages. A vigilante group known as the "Vigilant", patrols the waters surrounding Cuba, preventing desperate Cuban citizens from reaching refuge from the socialist confines of the Cuban government.
Puig was determined to be one of the few to make it. He attempted to escape from Cuba more than six times. Jaime Torres, Puig's agent said Yasiel was scared. "I remember he asked me: 'Please help me. Help me get to the big leagues.'" Puig endured the long boat rides, with little to eat, and just one small wool blanket to keep himself and the other Cuban hopefuls warm. He spent his days talking about his love for baseball and promised that one day he would prove to everyone that he was good enough to play in the MLB. His story was inspiring to various individuals he met on the seas, as they banded together to help him become successful.
On June 19,2012 Puig defected successfully from Cuba to Mexico, and although he was out of shape and rusty, the Los Angeles Dodgers signed him to a seven year, $42 million contract. Even Chris Hoschak, a member of the Vigilant, cannot deny his greatness, stating: "From a law enforcement perspective, you're talking about somebody who's illegal, and it's hard to sympathize. But when you hear about somebody who has the will to get where they want to go and make it happen, it's a great story. I don't look at this negatively. He's an entertainer and he's doing what he was put on the planet to do."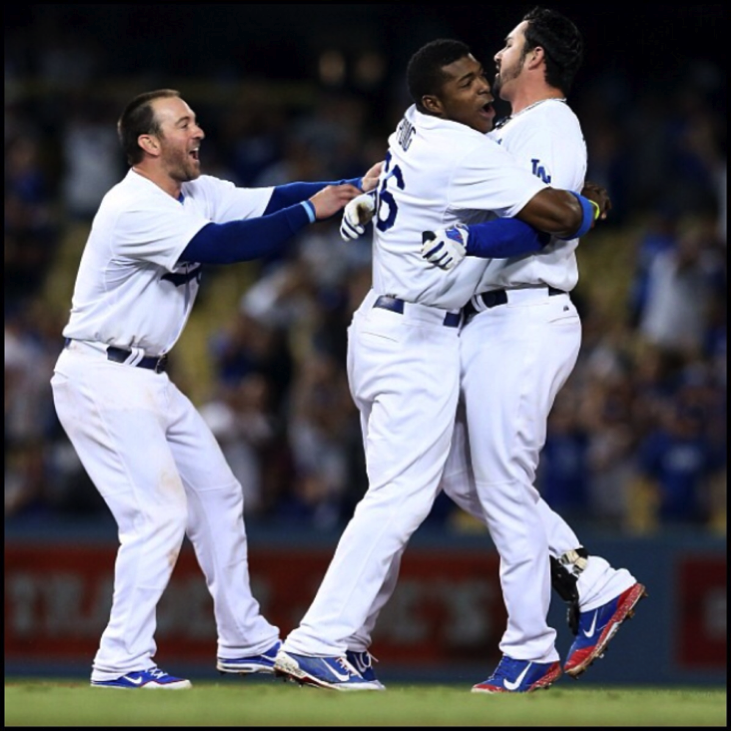 Yasiel Puig, middle, celebrates after a big play with teammates Adrian Gonzalez, right, and Nick Punto, left. (Official Dodgers Instagram/September 2013)
Author: Briana Savage
Nommo Staff